Serena Williams will soon be a mum of two, and the Tennis icon disclosed the gender of her unborn child in a posh gender reveal party
She had announced in May, to the delight of her fans, that she was pregnant as she attended the MET Gala
Serena, in the YouTube clip, talked about her fears if she found out she was expecting a boy
Tennis star Serena Williams and her hubby Alexis Ohanian are expecting a girl.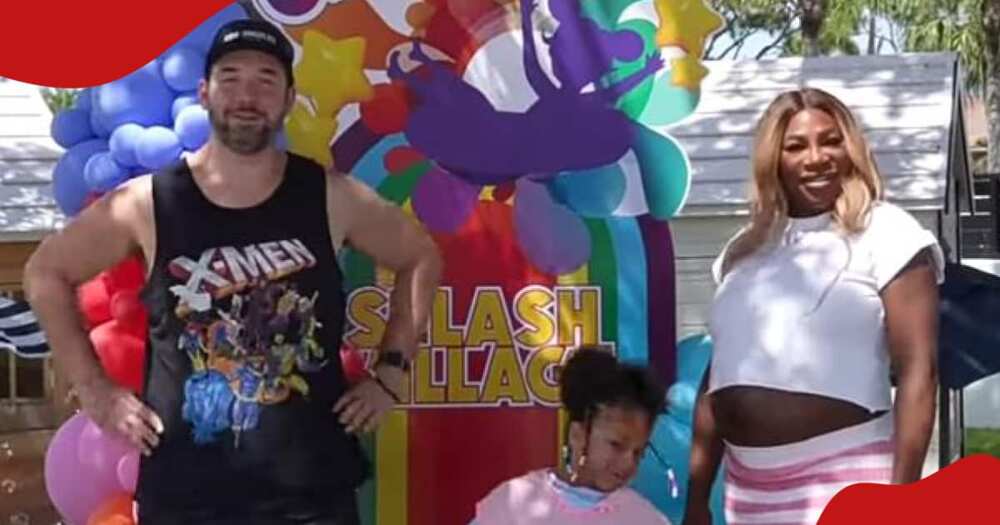 According to Tennis World USA, the tennis legend shared snippets of her reveal on her Instagram and TikTok accounts.
One of the videos features a colourful drone show, her hubby, Alexis Ohanian's idea.
She wrote:
"Big reveal coming soon to my YouTube channel. What do you think I'm having? Drop your guess below."
Her husband, responded:
"You know I had to come correct with a next-level reveal."
Serena and hubby expecting a girl
Serena delighted her fans with exciting news days later on Monday, July 31, as she joyfully announced the gender of her second child.
In a heartwarming six-minute video shared on her YouTube channel, the 41-year-old tennis legend revealed that she and her husband are expecting a baby girl.
The video captured the essence of a special event for the couple, combining a baby shower with a gender reveal celebration.
As the camera rolled, Serena radiated happiness as she shared this memorable moment with her viewers.
When Serena revealed she was pregnant
This delightful news came after Serena revealed her pregnancy during the Met Gala in May, where she proudly showcased her growing baby bump.
Since then, fans and well-wishers have awaited further updates on the tennis superstar's journey to motherhood.
As the world celebrated with the tennis star and her family on the upcoming arrival of their baby girl, the tennis legend continues to inspire generations both on and off the court.
Her accomplishments in the sports world and her journey as a mother served as a beacon of empowerment for countless individuals worldwide.
Serena was team pink for the reveal
Before she learned she was expecting another girl to become a little sister to her five-year-old daughter, Alexis Olympia, she candidly expressed her preference for a girl, playfully aligning herself with 'Team Pink.'
However, Serena also admitted feeling a bit apprehensive as she was "unprepared" in case the gender reveal unveiled that she was having a son.
Opening up in the video, Serena shared her nervousness, humorously revealing that she hadn't formulated any contingency plan in the event of having a baby boy.
Despite her uncertainty, Serena's genuine emotions and vulnerability showcased her authentic excitement and anticipation of welcoming a new addition to their family.
Serena gives fans tour of wardrobe
In March, the tennis star gave her fans a tour of her incredible walk-in wardrobe, which left many in awe.
The tennis champion promoted some pieces from the Nike-formed Serena Williams Design Crew.
Netizens caused a buzz on social media by commenting on the enormity of the walk-in closet.
Source: TUKO.co.ke
(function (d, s, id) { var js, fjs = d.getElementsByTagName(s)[0]; if (d.getElementById(id)) { return; } js = d.createElement(s); js.id = id; js.async = !0; js.src = " fjs.parentNode.insertBefore(js, fjs); }(document, 'script', 'facebook-jssdk'));
Follow Us on Google News