Key events
With North Macedonia and England drawing 1-1, this is how Group E finished.
England 20pts

Italy 14

Ukraine 14

North Macedonia 8

Malta 0
Italy were the better team for most of the game: dynamic, aggressive and desperate to score, even though they knew a goalless draw was enough. But Ukraine came on strong in the last 20 minutes and had a very strong penalty appeal turned down in added time when Mykhailo Mudryk went flying after a challenge from Bryan Cristante.
VAR wasn't interested, so Ukraine have to settle a place in the playoffs next March. Italy will defend their trophy in June and, hopefully for them, July.
Italy qualify for Euro 2024!
Full time: Ukraine 0-0 Italy Sikan's shot takes a deflection and spins through Donnarumma, who pounces on the ball like a rugby winger scoring a try. And that's it! Italy are through to Euro 2024 after a thrilling goalless draw in Leverkusen.
90+5 min Donnarumma charges out to charges a loose ball, and that should be enough for Italy.
90+4 min: No penalty! I'm not even sure it was checked by VAR. Cristante looks pretty fortunate there – Mudryk may have been looking for it but Cristante seemed to trip him.
90+3 min: Huge penalty appeal for Ukraine! Mudryk beats Cristante to Zubkov's low cross in the area and goes over. The referee waves play on but it will be checked by VAR. That looked like a foul to me.
90+2 min: Italy substitution Matteo Darmian comes on for the substitute Matteo Politano, who doesn't seem to be injured.
90+1 min Ukraine substitution Genoa's Ruslan Malinovskyi, who has been waiting for the ball to go out of play for two or three minutes, comes on for Oleksandr Svatok.
90 min There will be five minutes of added time.
90 min Sudakov breaks menacingly at a backpedalling Italian defence and is about to pick his through pass when Frattesi makes a vital challenge from the side.
89 min Sudakov's tame low shot from 25 yards is comfortably saved by Donnarumma.
88 min Only now do Italy look like they are playing for a draw. Ukraine are having lots of the ball in the middle third.
86 min: Double substitution for Ukraine Danylo Sikan and Oleksandr Tymchuk come on for Yukhym Konoplia and Oleksandr Zinchenko.
Sudakov is okay to continue.
85 min Sudakov is down and in a fair bit of pain. He went up for a header with Cristante, whose studs landed on Sudakov's achilles when they fell.
84 min Italy are six minutes away from Euro 2024. Donnarumma is warned for timewasting.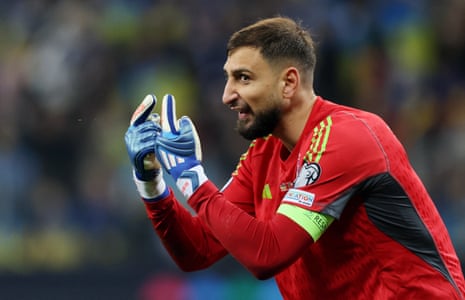 82 min Kean's first contribution is a stinging long-range drive that is blocked on the edge of the area. Moments later, Politano curls high and wide from about the same distance.
81 min: Italy substitution Moise Kean replaces the limping Enrico Chiesa.
80 min: Ukraine substitutions Oleksandr Zubkov and Oleksandr Pikhalonok replace Viktor Tsygankov and Taras Stepanenko.
79 min Konoplia is booked for a thuggish tackle on the outstanding Chiesa.
78 min Mudryk's free-kick from the right is met by Stepanenko, whose header deflects to safety off an Italian defender.
Apparently a few things are being thrown onto the pitch.
77 min The atmosphere is fantastic, as it has been pretty much throughout the game.
76 min Chiesa zips away from Konoplia on the left and guides a low cross towards the near post. Scammaca fights with Svatok for the ball but can't get a clean connection and pokes it off target.
75 min According to the excellent Dave Farrar on Viaplay, the Italy manager Luciano Spaletti has just shouted "You're doing nothing that you're supposed to" at his centre-forward Gianluca Scamacca.
74 min Now it's Italy who are struggling to get out, with Chiesea twice losing the ball in his own half. The second loss of possession eventually leads to Mudryk shooting well wide from the edge of the D.
72 min That Ukraine corner is belatedly taken and headed away at the near post.
71 min: Italy substitutions Nicolo Zaniolo and Jorginho are replaced by Bryan Cristante and Matteo Politano.
70 min Tsygankov wins a corner for Ukraine, who are having their best spell in about 55 minutes.
68 min This is one of the better 0-0s of 2023.
66 min: Another chance for Ukraine! Tsygankov plays a beautiful one-two with Dovbyk on the edge of the area, rides a tackle from Buongiorno and tries to stab the ball square to give Sudakov an open goal. It hits Jorginho, who was superbly positioned, and deflects into the loving embrace of Donnarumma.
65 min: Big save by Donnarumma! Italy are living on the edge. A long throw from Konoplia was misjudged by Donnarumma, who allowed it to bounce across the area towards Mudryk, but he recovered superbly to charge across and block Mudryk's shot.
64 min Scamacca plays a clever through pass towards Frattesi. Mykolenko, who has been excellent defensively, gets across and ushers the ball through to the keeper Trubin.
64 min In other news, North Macedonia are beating England in Skopje.
62 min "How is this game still 0-0," writes Krishnamoorthy V. "By the way, do I see three or four Chiesas on the field – he is everywhere."
You can see why Liverpool are linked with him all the time. As well as being indecently talented, his energy and hunger are right up Jurgen Klopp's street.
61 min Chiesa's inswinging cross is headed over from about 10 yards by Di Lorenzo.
60 min In other news, North Macedonia are beating England in Skopje.
59 min That was Italy's 13th attempt at goal. Ukraine have had three. Meanwhile, Mudryk barrels down the left, beating Jorginho and another Italian player, but Chiesa gets back to concede a corner.
58 min Chiesa cuts inside from the left and booms a curling shot that goes a few yards wide of the post – an ambitious effort, but probably not the right choice.
57 min Tsyganko gets to the byline in the area, only to ping a cross too close to Donnarumma.
55 min Italy battered North Macedonia in their World Cup playoff 18 months ago, only lose to a sucker punch. The longer this stays 0-0, the more they will fear a repeat.
51 min It's end-to-end stuff. After a promising Ukraine breaks down, Italy counter and the tireless Chiese wins a corner.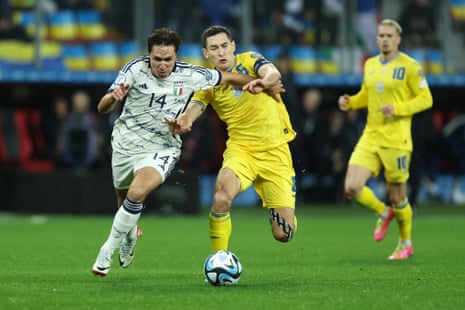 49 min Italy have come flying out of the traps again. Fratessi robs Zinchenko in a dangerous area and plays a one-two with Scamacca, but the move eventually peters out.
48 min Scamacca volleys over from eight yards, though the flag had gone up for offside.
46 min Zaniolo tries to a hurdle a challenge from Mykolenko and accidentally scrapes his studs on Mykolenko as he lands. No VAR intervention.
46 min Peep peep!
Italy have made a half-time change Gianluca Scamacca replaces Giacomo Raspadori up front.
"I agree with you that the story of the match so far is Italy's baffling inability to score, but Ukraine have shown flashes of quality while generally conserving energy," says Kári Tulinius. "If Italy keep playing at that kind of tempo, they'll eventually get tired, and Ukraine could hurt them."
Indeed. It really is beautifully poised.
Half time: Ukraine 0-0 Italy
A 0-0 draw is enough for Italy to reach Euro 2024, so plenty of people will nod sagely upon seeing this scoreline. But anyone who watched an exhilarating first half knows that a goalless draw is the last thing on Italy's mind. They attacked relentlessly and had a number of near misses. Ukraine struggled to get out – but when they did the pace of Mudryk and the craft of Sudakov made them dangerous, and Donnarumma had as many saves to make as his opposite number Trubin.
See you in 10 minutes for the second half, when one team will qualify for next summer's tournament and the other will be catapulted into the playoffs.
44 min Jorginho is robbed in a dangerous area by Sudakov, who moves from centre to right and clips a cross that takes a slight touch off an Italian defender, thus wrongfooting the unmarked Mudryk at the far post.
42 min Chiesa goes on another thrilling run into the area from the left. Eventually he's crowded out but Ukraine struggled to clear the ball. Barella hits a rasper from the edge of the D that is blocked by Svatok, then Frattesi's follow-up hits his teammate Raspadori.
39 min "Hagler v Hearns could be many teams, but Italy and Ukraine have been involved in some of the worst games of all time," says Justin Kavanagh. "The world has gone mad when you can't even rely on the Italians for 90 minutes of cagey fliphousery and a late stolen goal. But Sir Alex did warn us to always check under the sauce."
Or under the bald head of Luciano Spaletti, whose teams have always played aggressive, often exhilarating football.
Source link
For more such articles and news, do join our thelocalreport.in WhatsApp Group. You can also connect with us on Facebook, Instagram, and Twitter for more about the automotive world! 
Latest News