India and Canada are dealing with an unprecedented diplomatic crisis, which can have political as well as geopolitical consequences.
It started after Canada's Prime Minister Justin Trudeau dropped a bombshell allegation earlier this week, telling Parliament that it is possible the Indian government had a hand in the murder of a Khalistani separatist in Canada in June.
He said he had taken up the issue with Prime Minister Narendra Modi during his visit for the G20 Leaders' Summit on September 9-10. At their bilateral meeting in New Delhi, Modi had raised the concerns about pro-Khalistan elements in Canada.
The Ministry of External Affairs called Trudeau's accusation "absurd and motivated". It said he had made similar allegations during his meeting with the PM, which had been "completely rejected".
The diplomatic escalation happened quickly — and shows the seriousness of the crisis.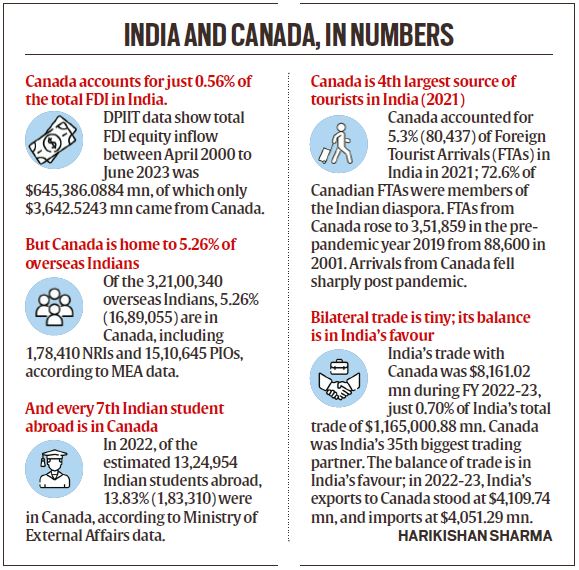 Canada took the first step, expelling an Indian diplomat posted in Ottawa. The official was identified as the head of the Indian intelligence agency, and his identity was revealed. India responded by expelling a Canadian diplomat based in New Delhi.
India then issued a travel advisory for Indian nationals travelling to Canada, as well as a caution for the Indian community in Canada. Students, professionals, and tourists were asked to be cautious because, the advisory said, the Indian community could be targeted.
On Thursday, India suspended visa services in Canada. E-visa services were stopped too, and Canadian citizens who apply from other countries will also not get a visa for India.
India asked Canada to cut the number of its diplomats in India, saying there are more Canadian diplomats in India than there are Indian diplomats in Canada.
The upshot
Let's parse through these developments.
First, Trudeau's allegation: "…Canadian security agencies have been actively pursuing credible allegations of a potential link between agents of the Government of India and the killing of a Canadian citizen, Hardeep Singh Nijjar."
Canada's Foreign Minister Mélanie Joly said: "If proven true, this would be a great violation of our sovereignty and of the most basic rule of how countries deal with each other."
Both statements suggest that the Canadian investigation is far from complete, and nothing is as yet "proven". It must be noted that it is unusual for the Prime Minister of a country to make a serious charge of this nature against a foreign government before it has conclusive proof.
New Delhi has in essence been accused of the extra-judicial killing of a foreign citizen in a foreign land. Only a fair, impartial, and credible investigation can establish the truth or otherwise of Trudeau's allegation. If Canada can provide compelling evidence, it could potentially damage India's post-G20 reputation as a strong voice for democracy and a global consensus builder. But India remains innocent until proven guilty.
Canada has asked India to cooperate in the investigation. India has said it would "look into" any "specific information shared" by Canada.
But it has also called Canada a "safe haven" for "terrorists, extremists and organised crime". Such descriptions are usually reserved for Pakistan and Afghanistan, and it is rare for India to use them for a western democracy.
India has had diplomatic standoffs earlier — with the United States on the Devyani Khobragade issue, with Italy on the Italian marines issue, with Norway on the child services issue, and with Denmark over the extradition of the Purulia arms drop accused. But the current situation is qualitatively different and much more serious because of the nature of the allegation that Canada has made.
Khalistan problem
The crisis underlines the resurfacing of the problem of Khalistan in India-Canada relations after having gone under the radar after the 1980s. Over the past few decades, the challenges in the relationship were different — a low point came after the nuclear tests in 1998 when Canada, an advocate of nuclear non-proliferation, criticised India heavily.
The big issue for India is the safe haven that Canada has provided to separatist Khalistani groups, and what New Delhi sees as the Liberal Party's pandering to these groups for votes. Estimates suggest there are 20-25 constituencies where these votes are crucial — and that explains the Trudeau government's soft-pedalling on India's concerns.
Jagmeet 'Jimmy' Dhaliwal, whose New Democratic Party supports Trudeau's minority government in Parliament, is viewed with suspicion by the Indian establishment for its pro-Khalistan sympathies — some in New Delhi even call him an activist.
Trudeau's visit to India in 2018 was seen as a diplomatic disaster after it was revealed that Jaspal Atwal — a former member of the International Sikh Youth Federation (ISYF), a pro-Khalistan outfit that was banned in Canada and designated a terrorist organisation in 2003 — was invited to two events organised for the visiting leader in Mumbai and New Delhi.
The invite to the New Delhi reception at the High Commissioner's residence was withdrawn after pictures of Atwal at the Mumbai party became public.
The so-called Khalistan "referendum", nudged along by Pakistani intelligence agencies, has been a major irritant in recent years. New Delhi objected to Canada permitting the secessionist "referendum" among the Sikh diaspora and warned against hate crimes — however, Canada chose not to act, citing freedom of expression and the right to protest.
Diplomats who have dealt with Canada say the country — which is home to large numbers of immigrants from various countries — is hostage to immigrant interests in its foreign policy. Thus, Ukrainian and Russian immigrants and refugees often shape Canada's Russia policy; Hong Kong and Taiwan immigrants shape its China policy; Jewish immigrants shape its Israel policy; Afghans influence its Afghanistan policy; and Sri Lankans influenced its Sri Lanka policy during the LTTE conflict.
These diplomats say the pro-Khalistan elements — who are actually a small minority in the Canadian Sikh community — have hijacked the Trudeau government's India policy. Estimates suggest that of the about 20 lakh Indian diaspora, only about 8 lakh are Sikhs. Of which, Indian estimates say, only about 1% — 8,000-9,000 people — are pro-Khalistan radicals.
But this small population of Khalistanis control 12-15 gurdwaras, where they generate funds and organise political mobilisation by voting en bloc for Canadian political candidates. The constituencies in which they have a say are mostly in Brampton in Ontario province, and Vancouver and Surrey in British Columbia.
In geopolitics
Canada is an important strategic partner for major western powers — it is part of the G7 grouping and shares the table with the US, UK, Germany, France, Italy, and Japan. It also shares intelligence with the Five Eyes grouping — with the US, UK, Australia, and New Zealand.
All these countries are also close strategic partners of choice for India. India has the Quad partnership with the US, Australia, and Japan, and strong and growing bilateral ties with each of them.
Most Read
1
'Surviving on bread, fighting for refunds': Indian students in Canada struggle to find housing, food, jobs
2
Chandrayaan-3 mission: Dawn breaks on Moon, all eyes on lander, rover to wake up
The diplomatic standoff has put these countries in a spot — they don't want to be in a position where they have to choose between Canada and India. The US, Australia, and UK have issued measured and nuanced statements; the rest haven't responded yet.
In the end, Ottawa has a lesson to learn from some of these partners on how they have handled the Khalistan issue in their own countries — especially from the US, Germany, and Australia. In the UK, where pro-Khalistan groups have nuisance value, there is still work to be done.
But, right now, both India and Canada would have to address each other's concerns so that the rhetoric can be dialled down.