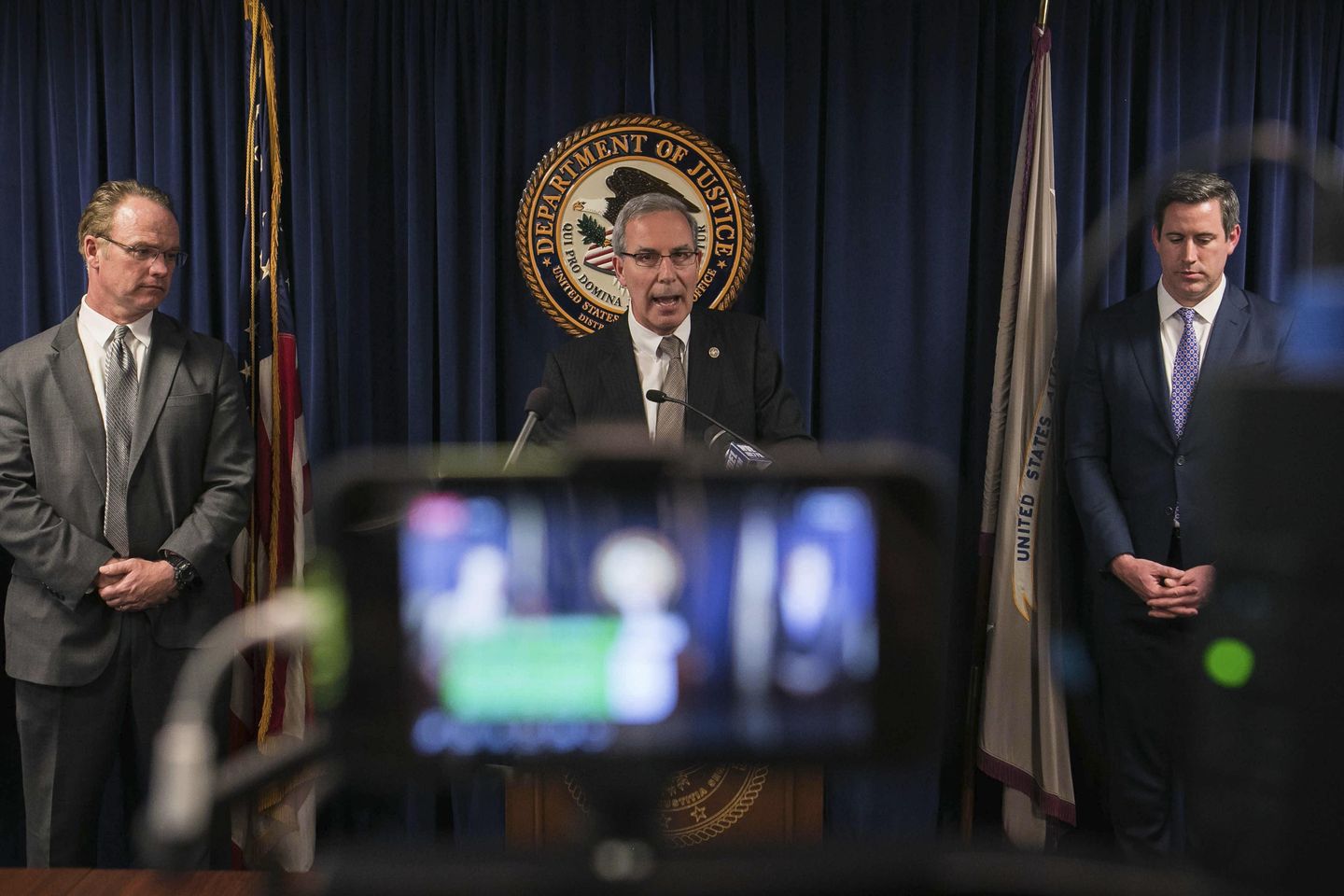 Special counsel David Weiss forced the IRS to take a top agent off the Hunter Biden tax fraud investigation after he told Mr. Weiss the case was being mishandled.
Gary Shapley, the IRS whistleblower who disclosed evidence alleging political interference by the Justice Department to protect Hunter Biden from tax fraud charges, believes Mr. Weiss first sought to push him off the case after a contentious meeting on Oct. 7, 2022.
Mr. Shapley, a special agent for the IRS Criminal Investigation, eventually went to Congress seeking whistleblower protections to disclose his complaints about the handling of the case.
---
---
On Monday, Hunter Biden filed a lawsuit against the IRS, accusing the agency of "repeatedly and intentionally" disclosing his tax returns and failing to protect the confidentiality of his tax documents.
Mr. Shapely's fallout with Mr. Weiss started at the Oct. 7 meeting, where he expressed concerns about "updates and communications" in the tax fraud case. The case had been open for years with no charges imminent for the president's son despite evidence of hundreds of thousands of dollars in unpaid taxes.
The meeting with Mr. Weiss, Mr. Shapley later told Congress, was "surprisingly contentious" and "ended quite awkwardly."
---
SEE ALSO: Hunter Biden sues IRS, alleging agents illegally disclosed his tax information
---
After the meeting, Mr. Shapley's legal team told The Washington Times, Mr. Weiss, then the Delaware U.S. Attorney, began reviewing "protected disclosures" Mr. Shapley had been filing to his supervisor about the Hunter Biden IRS probe dating back to 2020. The disclosures documented the ways Mr. Shapley believed the investigation was being slow-walked and mishandled.
"Gary raised concerns in the Oct. 7, 2022 meeting. Weiss realized that and started looking into Gary's communications and he realized he made protected disclosures," Mr. Shapley's lawyer, Tristan Leavitt, said.
Soon after,  Mr. Weiss "pushed to get Gary off the case, even though Gary's supervisors say Gary committed no misconduct," said Mr. Leavitt.
Mr. Shapley's lawyers are highlighting the timeline that led to his removal from the case amid new leaked congressional testimony disclosed by House Democrats eager to invalidate Mr. Shapley's claims of political interference in the Hunter Biden tax probe.
Some of the testimony contradicts Mr. Shapley's recollections of the Oct. 7 meeting, including his notes from the meeting that memorialize Mr. Weiss telling the IRS and FBI officials in the room that "he is not the deciding person" on charging Hunter Biden. The statement contradicted congressional testimony from Attorney General Merrick Garland, who said Mr. Weiss was "in charge" of the investigation and there would be no interference from him.
A trio of FBI and IRS agents told lawmakers in closed-door testimony they do not recall Mr. Weiss stating he was "not the deciding person" and said they did not believe political bias was influencing the case.
But Mr. Shapley's lawyers said the testimony shows Mr. Weiss pushed Mr. Shapley off the Hunter Biden investigation after Mr. Shapley complained to his supervisor about the handling of the case.
Mr. Shapley's supervisor, Darrell J. Waldon, confirmed to House investigators that Mr. Shapley and Mr. Weiss had clashed at the Oct. 7 meeting and that after the meeting, Mr. Weiss told Mr. Waldon he would no longer be talking to Mr. Shapley, who had been the point person for the Justice Department in the Hunter Biden investigation up until that moment.
"I recall more vividly him stating he was not going to be responding to Mr. Shapley's emails anymore, and at some point, he said he would be talking to me," Mr. Waldon said, according to a transcript of the interview obtained by The Washington Times.
Mr. Waldon told investigators he removed Mr. Shapley from the Hunter Biden investigation "primarily due to what I perceived to be unsubstantiated allegations about motive, intent, bias."
Later in his testimony, Mr. Waldon explained in greater detail the reason Mr. Shapley was pushed out of the investigation. He testified that Mr. Weiss said he would no longer talk to Mr. Shapley due to a "conflict" over obtaining evidence in the Hunter Biden investigation.
Mr. Waldon said it gave him no choice but to remove Mr. Shapley, not because of misconduct, but because Mr. Weiss's refusal to talk to Mr. Shapley would hobble their investigation.
"I didn't think that that would be resolved quickly," Mr. Waldon said. "And in order to move the investigation forward, I recommended that he be removed so that we could continue to push the investigation forward."
Mr. Shapley was informally cut out of the investigation in December 2022 and officially taken off the case on May 15, 2023.
By then, Mr. Shapley had taken his whistleblower complaint to Congress, telling lawmakers his investigative team had been blocked by the Justice Department from pursuing the key evidence in the case, including financial records belonging to Hunter Biden that were stored on his father's property and lines of questioning about Mr. Biden's involvement in his son's business deals.
News of Mr. Shapley's then-anonymous whistleblower complaint was leaked to the media on April 19. On April 25, a top Justice Department official called Mr. Shapley's team, fishing around for details about the whistleblowers' claims. The next day, the same official met with Hunter Biden's then-defense lawyer, Chris Clark.
Less than one month later, on the day Mr. Shapley was formally removed from the case, Justice Department officials offered a plea deal to Hunter Biden that would spare him any charges or jail time for either the tax fraud or lying on a gun background check form. They changed the deal weeks later, after Mr. Shapley's CBS interview claiming political interference in the case.
The Justice Department then told Hunter Biden's legal team he would need to plead guilty to the two misdemeanor tax charges and agree to enter a pretrial diversion program on the gun charge.
None of the charges would come with recommended jail time.
The deal fell apart in a dramatic July court hearing after Judge Mary Ellen Noreika forced prosecutors to disclose that the deal would provide Hunter Biden with blanket immunity from other charges related to his crimes, including unregistered foreign lobbying.
Mr. Weiss was elevated to special counsel by Mr. Garland on Aug. 11.
Last week, he charged Hunter Biden with three criminal counts related to owning a gun while a drug addict and reopened the investigation into Hunter Biden's failure to pay taxes.
Mr. Weiss did not immediately respond to an inquiry from The Times.