British car manufacturer Ford has hit out at Prime Minister Rishi Sunak, amid his plans to ban the sales of new petrol and diesel cars by 2030.
Ford's UK chair, Lisa Brankin, has said that relaxation of the government's 2030 target would 'undermine' their efforts in reaching net-zero in the vehicle industry.
---
This follows the news that Rishi Sunak could be planning to weaken some of the government's key green commitments in a major policy shift.
The Prime Minister changing government targets could mean delaying a ban on selling new petrol and diesel cars, and phasing out gas boilers.
Ford's UK chair Lisa Brankin said in a statement: "Three years ago the government announced the UK's transition to electric new car and van sales from 2030. The auto industry is investing to meet that change.
"Ford has announced a global $50billion commitment to electrification, launching nine electric vehicles by 2025. The range is supported by £430million invested in Ford UK's development and manufacturing facilities, with further funding planned for the 2030 timeframe.
"This is the biggest industry transformation in over a century, and the UK 2030 target is a vital catalyst to accelerate Ford into a cleaner future.
"Our business needs three things from the UK government: ambition, commitment and consistency. A relaxation of 2030 would undermine all three. We need the policy focus trained on bolstering the EV market in the short term and supporting consumers while headwinds are strong: infrastructure remains immature, tariffs loom and cost of living is high."
Sharing her thoughts on the u-turn, Home Secretary Suella Braverman told GB News that the government is 'committed' to keeping their 2050 net-zero target.
Braverman said: "What I can confirm is that we remain absolutely committed to delivering Net Zero by 2050 in line with our international agreements. I'm incredibly proud of what the Conservative government has achieved when it comes to combating climate change.
"In the last decade or so, we've reduced carbon emissions, we've increased the output from renewables, and we are seen as a world leader.
"But it's also right that we put economic growth and household budgets and the cost of living ahead. And fundamentally, we're not going to save the planet by bankrupting the British people."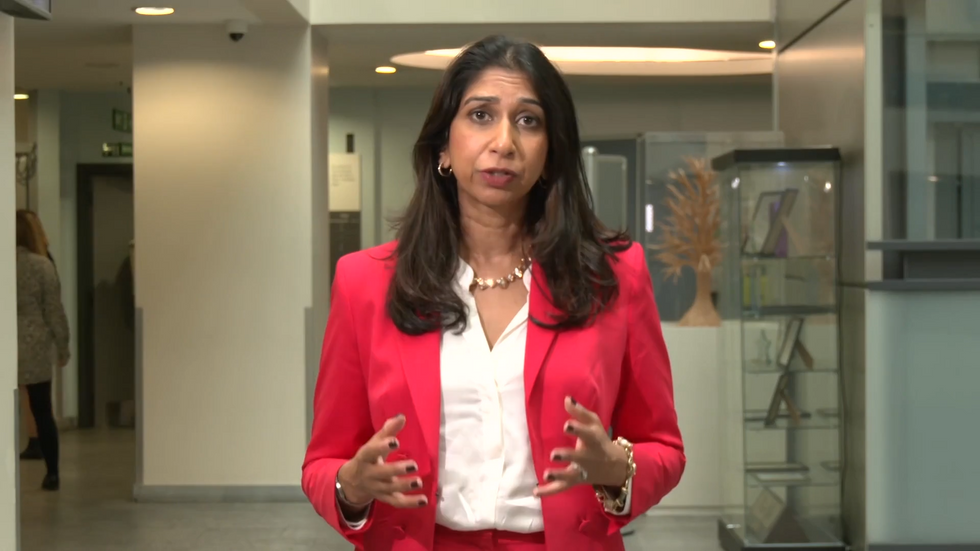 Suella Braverman said the Government is 'committed' to their net-zero targets
GB News
Leader of Reform UK, Richard Tice, reacted to the news that the Prime Minister may be making the net-zero u-turn.
Tice said: "I was the first one to say that net-zero is madness, it's making us poorer, it's making us colder.
"But look, in a sense I should be flattered that finally some common sense is emerging in part of the Conservative government.
"It's not just on net-zero, they're starting to see the light on HS2, we're going to get an announcement on that."