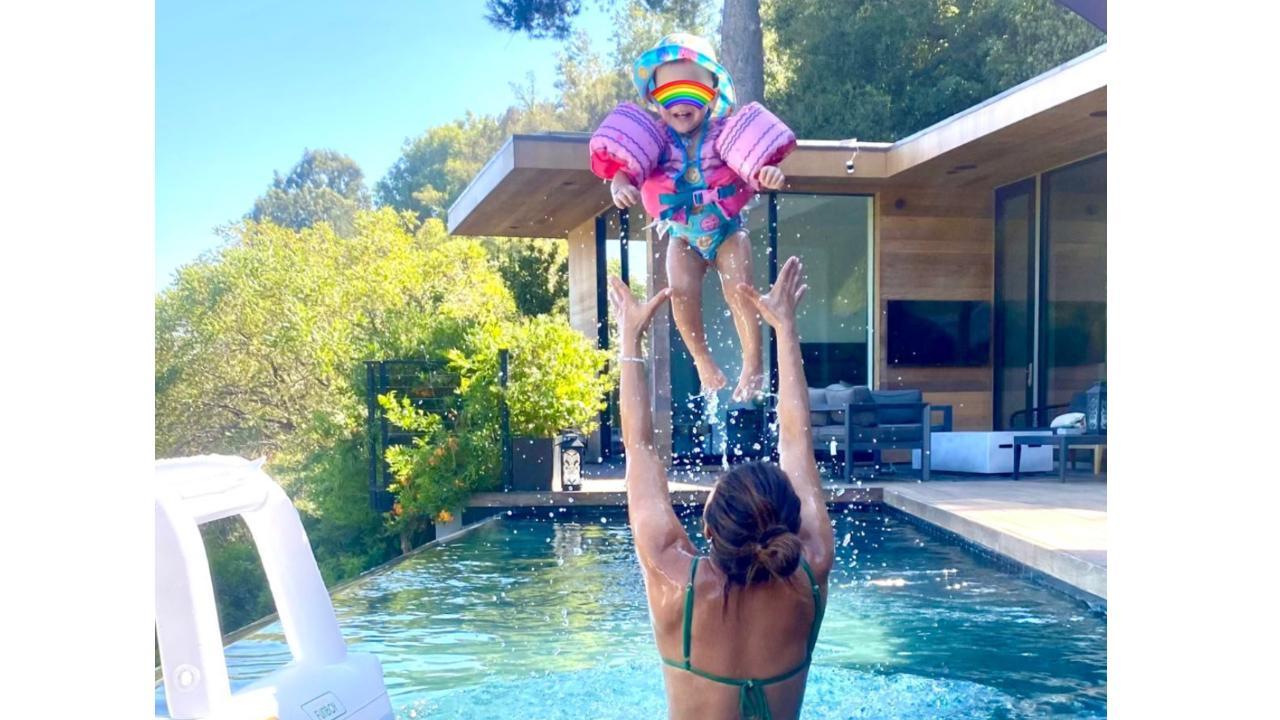 Priyanka Chopra is currently in Los Angeles spending time with her daughter Malti Marie. The actress skipped the wedding festivities of her cousin Parineeti in India owing to work commitments. On Monday morning, before Parineeti dropped dreamy pictures from her wedding, the global superstar gave a glimpse of her day with her daughter.
In the picture shared by Priyanka on her Instagram stories, the actress is seen in a green bikini in a pool. In the picture, she is seen throwing her daughter in the air and the little one could be seen smiling. The little one was dressed in a blue swimsuit and had floaters on her arms. Priyanka covered her daughter`s face with a rainbow emoji.
Priyanka Chopra`s mother Madhu Chopra was seen attending Parineeti`s wedding over the weekend. On Monday morning, while talking to the paparazzi, she said that Priyanka could not make it to the wedding owing to prior work commitments. The actress, however, was present for Parineeti and Raghav`s engagement ceremony in May this year.
Meanwhile, on Saturday, Priyanka Chopra had shared an unseen picture of Parineeti and wished her the best for her new beginning. Priyanka wrote on her Instagram stories, "I hope you are as happy and content as this on your big day little one..always wishing you so much love (red heart emoji) #newbeginnings @parineetichopra @raghavchadha88."
On the same day, Priyanka had shared an adorable video of her enjoying farm time with her daughter Malti and brother-in-law Franklin Jonas.
In the Instagram video shared by the actress, Priyanka is initially seen carrying Malti in her arms as they tour the farm. After that, Priyanka is shown kneeling as she plays with a goat placed on her back. The happiness on the `Quantico` actress` face is palpable, and she certainly had a great time at the farm. Priyanka is dressed casually in a white shirt, beige jeans, and a blue baseball hat. Malti Marie can be seen looking at the farm`s animals while wearing a lovely blue-and-red full-sleeved jumpsuit. Franklin Jonas, Nick Jonas` brother, also appears in the video, holding a couple of birds.