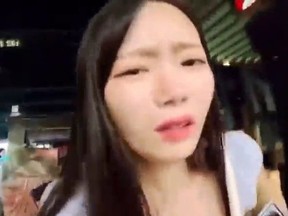 Article content
WARNING: Disturbing language and footage.
It's a tale as old as time: A woman on camera gets sexually harassed. But this latest incident went a step further and way past the line of being acceptable.
Article content
Female reporters have been the subject of sexual harassment by people who think it's OK to direct vulgar comments or touch them them as they do their job.
Are livestreamers and influencers next?
A Korean woman in Hong Kong was in the middle of a Twitch stream when a stranger approached her and put his arm around her.
Smiling at first, but visibly uncomfortable, the woman is heard repeatedly saying, "OK, OK, OK," before shrugging his arm off her.
Article content
"Listen, come with me," he says to her and tries to usher her along with him as she continues to squirm.
"Oh, please don't hurt my arm," she says to him as he continues to grab her. "No, no, no, no, no."
She loses him for a second, but he is back by her side, even as she continues to tell him "no."
That's when he grabs her and is seen whispering in her ear, "Listen, come with me," even as she repeatedly says "no" and insists that she is "not alone."
"Please help me!" she says.
A bystander manages to help her as the man is seen running away up a set of stairs while the woman and good Samaritan head down the steps.
Article content
Thank you so much," she says to the man who helped her.
RECOMMENDED VIDEO
People concerned for the woman's safety were initially confused with one viewer asking, "Is this person helping or asking for help?"
But once it's clear the man had unsavoury intentions, her audience quickly expressed their concerns.
"WTF," wrote one, with many people telling her to "run" and "shout" for help.
Others said, "Call police" while another said, "Tell him to f— off."
Social-media users pointed out that the man could be easily identified because he didn't hide his face, The Sports Grail reported, but the streamer did not file a police report due to fear of retaliation.

Follow Us on Google News
#Woman #harassed #assaulted #Twitch #livestream