The father of a nine-year-old girl abducted by Hamas has again pleaded for her return amid growing hopes of a deal between Israel and Hamas that would see a significant number of hostages released.
"That'd be very great for everyone concerned on both sides," said Thomas Hand, 63. "It gives me hope, but until I see her, until I'm holding her I won't believe anything. Until I see it, I won't believe it."
Six weeks after the Palestinian militant group's deadly attack on 7 October, the parents of young hostages abducted by Hamas – Emily Hand, nine; Almog Meir Jan, 21; and Yotam Haim, 28 – pleaded for their return at a press conference in London, as they described their lives as a nightmare.
"I know the Israeli government and the army will do everything in their capabilities to get them back," said Hand, whose daughter Emily was initially believed to be among the 1,200 Israelis killed during the surprise attack by Hamas in southern Israel. Now, she is counted among the 240 hostages in Gaza.
Hand said the day of Emily's ninth birthday, 17 November, which he spent in Times Square surrounded by billboards with her image, was one of his darkest since the attack.
"My sole purpose in life now is to do everything I can to get my little daughter Emily back," said Hand, who after living in Be'eri kibbutz for 20 years working in a printing house, now lives in a hotel near the Dead Sea. "Nothing else concerns me."
The emotional plea comes amid the bloodiest chapter in the 75-year-old Israeli-Palestinian conflict, after Israel responded to the Hamas attack with an assault on Gaza that has killed more than 13,000 civilians.
On Monday, families in London echoed calls the Israeli prime minister, Benjamin Netanyahu, has faced from families to bring the hostages home. Negotiations for their release are under way, possibly in return for a limited ceasefire and the release of Palestinian prisoners from Israeli jails.
Hamas has released four hostages, and has claimed that as many as 30 have been killed by the Israeli bombing of Gaza. On Sunday, Israel accused Hamas of executing a captive soldier and holding two foreign hostages at al-Shifa hospital, where last week the military said it recovered the body of 65-year-old Yehudit Weiss, a resident of the Be'eri kibbutz who was abducted by Hamas.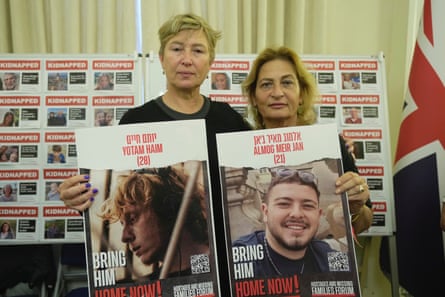 Sitting at a table before a backdrop displaying photographs of some of the 240 hostages, including a nine-month-old baby and young children, Iris Haim expressed support for the Israeli military while asking for the world's support.
"We hope that they will come back, I trust Israel, I trust the IDF with all my heart but we need the support of the world," said Haim, the mother of 28-year-old Yotam, who was abducted by Hamas from Kfar Aza. "We need you to support us please."
After losing contact with her son at 10.44am on 7 October, Haim said the family have had few updates. She has found little comfort, she said, after learning he left his home healthy, walking and unwounded.
She added: "Many people want to live together, but we cannot, we cannot make peace with somebody that hates us, that wants to kill us and not just to kill but to slaughter, to be so cruel to innocent people."
"In the long-term future, I would love to see peace with our neighbours," Hand said told the Guardian. "We used to have peace with our neighbours. Before the first intifada, there was true peace. I just hope that they're taking some reasonable care of Emily and the hostages."
Source link
For more such articles and news, do join our thelocalreport.in WhatsApp Group. You can also connect with us on Facebook, Instagram, and Twitter for more about the automotive world! 
Latest News