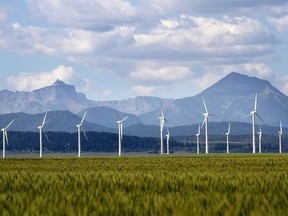 Article content
Generally, conservatives are quite disdainful of the idea of playing favourites in economic policy. As one Alberta premier once put it: "Picking winners and losers is not a strategy for long-term economic success."
He wasn't wrong. Governments should strive for a level economic playing field with minimal interference. The "picking winners and losers" phrase is usually meant to critique the approach of subsidies and other favourable treatment for certain industries or companies (i.e. "winners"). But governments can certainly find ways to pick losers, too.
Article content
Unlike Ottawa's approach to renewable energy, Alberta has — until now — followed the principle of not picking winners and losers. The results speak for themselves, having yielded billions in investment and thousands of new jobs in just the past few years.
Which makes last week's announcement from the Alberta government all the more puzzling. It certainly seems like they're picking this industry to be a loser.
Out of nowhere, the government announced a six-month moratorium on approvals for renewable energy projects. This is ostensibly to allow the government time to study concerns around rural land development, the environment and the electricity grid.
The reaction was a mixture of confusion and frustration. A wave of uncertainty swept over this industry leaving some major projects — and major investments — in limbo. As the president of one company told Postmedia: "Without certainty in Alberta, we will focus our investment in other jurisdictions." One has to hope that wasn't the goal of this announcement.
It's inconceivable that the government would consider such a moratorium on oil and gas projects. In fact, this same government is pressing ahead with a plan to effectively subsidize oil and gas well cleanup. This very much undermines the notion that a level playing field exists here and risks discouraging the very investment that has made our province such a success story.
Article content
It should also be noted that under provincial regulations, "all utility-scale renewable generation projects in Alberta are commercially developed on private land only and can only advance with the permission of private landowners." In other words, this isn't about landowners' rights. If anything, the province is undermining the ability of landowners to negotiate and agree to such arrangements.
It's one thing to be against lavish subsidies for renewable energy development, but this seems more like a broadside against renewable energy itself. Is this about picking a political fight with Ottawa or environmental groups? Or maybe a weird way of showing just how much the government loves the oil and gas sector? Regardless, it's hard to see how this is anything but counterproductive as an economic strategy.
There are legitimate environmental and property rights issues to be considered with any sort of energy development. The government has had years to examine these issues, and it seems as though the industry is being punished for the government's own tardiness. Either way, it's still not clear why a moratorium is necessary to do this work.
Article content
What's more, the government didn't even reach out to the industry before making the announcement.
"It was a done deal before we had a chance to convince the minister that the industry doesn't need a moratorium," said he president and CEO of the Canadian Renewable Energy Association.
The minister for affordability and utilities actually blamed "scheduling problems" for why industry was blindsided. Waiting a week or two certainly could have allowed for some meetings, but it's clear that this wasn't a priority for the government.
It's easy enough to imagine the UCP's reaction if the federal government attempted to impose anything even remotely similar on the oil and gas sector — or, for that matter, on just about any other sector of the economy. In any other context, it would be apparent that such an approach "is not a strategy for long-term economic success."
So why do it here?
Afternoons with Rob Breakenridge airs weekdays from 12:30 to 3 p.m. on QR Calgary and 2 to 3 p.m. on 630CHED
rob.breakenridge@corusent.com
Twitter: @RobBreakenridge 
Follow Us on Google News