At least five people were killed after a bus fell from a bridge into a canal on the Muktsar-Kotkapura road in Punjab Tuesday afternoon. Ten people have been rescued and admitted to a hospital. More people are feared dead even as the rescue operation is going on.
The accident happened near the Jhabelwali village in Muktsar when the bus full of passengers was moving from Muktsar towards Kotkapura amid heavy rain.
According to eyewitnesses, as the bus was about to cross the bridge over the canal, the driver lost control of the vehicle and it slid towards one side on the slippery road. The bus broke the bridge's railing, and half of it fell into the water. The bus belonged to New Deep services run by Shiromani Akali Dal leader Hardeep Singh Dimpy Dhillon.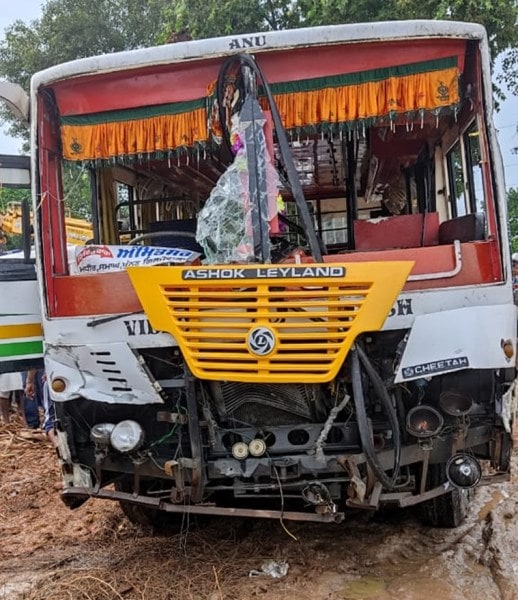 The bus after being taken out of the canal. (Express Photo)
The deputy commissioner of Muktsar said, "Five bodies have been taken out so far and 10 passengers have been admitted to hospital for treatment. The bus has been taken out of the canal. Rescue operations for passengers feared to have been swept away are being done."
Most Read
1
Farida Jalal recalls the time when Amitabh Bachchan-Jaya Bachchan were dating: 'They would pick me up at night, we would go for long drives'
2
Jawan box office collection day 12: Shah Rukh Khan's blockbuster nears Rs 900 crore gross worldwide
"A few people broke the window panes of the bus and saved themselves while a few others drowned. According to my information, the majority of the passengers were students going to their houses after attending the day's classes at various IELTS institutes of the Muktsar town," said Rozy Barkandi, former SAD MLA from Muktsar, who was at the spot.
Divers hired by the district administration and many trained divers from nearby villages are volunteering at the spot.
Punjab CM Bhagwant Mann posted on X, "Got the sad news of a private bus accident in the canal on Muktsar-Kotkapura road….Administration teams are present at the spot…I am taking moment by moment updates on the rescue operations…God bless everyone. Wish you…will share rest details soon"